Charisma Pony from New Mexico!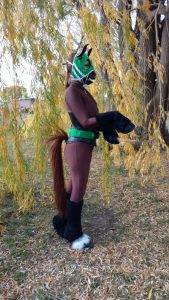 Sunday, August 16 at 11 am
"Join us as we take a look at the world of bio-based grooming! Grooming is one of the things that you don't see often enough in Pony Play. It is a fantastic way to help get you and your pony into headspace! It's also a great way to do aftercare! We will cover different types of grooming equipment such as brushes, curry combs, hoof picks, shampoos, etc. We will also go over how to properly brush out manes and tails, how to maintain faux fur, the differences between standing and polo wraps, and so much more!
Towards the end of the class we will also do a Round Pen lesson. Round Penning is like longeing but without the rope. In the bio-world it is used for everything from tiring a horse out to full blown training sessions. For pony play, it can be used to help warm up the muscles before playing or it could be for more intense training! The only limit is your imagination!"
Ham from Washington DC!
Ham has been involved in the BDSM community for over 20 years as a rope aficionado and disciplinarian.  He was introduced to pony play from erotic photographs and drawings in Playboy and Penthouse but where he really discovered the beauty of ponies was a Camp Crucible. The head Pony Wrangler, Jeff, was recruiting handlers and after a few classes Ham realized, being retired from the Air Force after 21 years, how similar it was to military drill.
He was awarded the Blue Ribbon winner in Equitation Dressage in his first event and has been hooked ever since. Ham has worked with some amazing ponies including Ponygirl Bree, Piper Pony, Alleyah, and Pony boys Rusty and Stormy. He is a multiple Blue Ribbon winner in Equitation from Camp Crucible and Brimstone Pony shows and the Grand Champion at Brimstone V with a novice pony, Gwenevere.
Ham has been the lead trainer at Pony Camp for the past 5 years and is the host and Master of Ceremonies for the Camp Crucible 'Lucky Fucker' Pony Show.  He is the 'House Handler' for the annual Ponies of the Delta event held just outside of New Orleans, LA and a volunteer for the 2019 EQUUS International Pony Play Event in Los Angeles, CA.
His military background is the basis for the disciplined approach he uses in teaching and demonstrating various skills and techniques for pony play. Ham believes in the PIE triad of "Physical, Intellectual, and Emotional" as the basis of any scene play and believes this integration is an integral part of human – equine interaction. He believes we never stop learning and growth comes from sharing and supporting others in need.