Charisma Pony from New Mexico!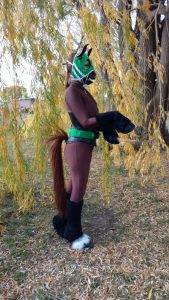 Charisma is a lifelong bio-equestrian and pony player. When she was a child, she was notorious for running around and pretending to be a horse after her riding lessons. It wasn't until she turned eighteen that she discovered the pony play scene. She has since traveled across the USA as both a competitor, presenter, and judge for various events. Her style is very much based on bio-horse behavior and training methods. It isn't uncommon to see her try to bite, buck, or kick while in headspace as she is the typical "chestnut mare!"
She holds blue (1st place) ribbons in dressage, hunter and show jumpers, flat and jumps racing, confirmation, barrel racing, western reining, cutting, blindfolded carting, and various other events. She also has Grand Champion awards from both EQUUS IPPE and Ponies on the Delta. She appeared in various shows and magazines over the years, including the viral video Pony Play Down in New Orleans.
Sunday, August 16 at 11 am
"Join us as we take a look at the world of bio-based grooming! Grooming is one of the things that you don't see often enough in Pony Play. It is a fantastic way to help get you and your pony into headspace! It's also a great way to do aftercare! We will cover different types of grooming equipment such as brushes, curry combs, hoof picks, shampoos, etc. We will also go over how to properly brush out manes and tails, how to maintain faux fur, the differences between standing and polo wraps, and so much more!
Towards the end of the class we will also do a Round Pen lesson. Round Penning is like longeing but without the rope. In the bio-world it is used for everything from tiring a horse out to full blown training sessions. For pony play, it can be used to help warm up the muscles before playing or it could be for more intense training! The only limit is your imagination!"