Noishe from Los Angeles, California
Equus International Pony Play Event 2018 Grand Champion winner.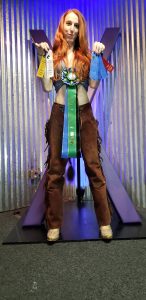 Noishe has been a bio-horse rider since she was six years old, when her passion for all things equine-related was ignited. She has competed in bio-equestrian events as well as barrel racing in county rodeos. When she entered the BDSM community six years ago, she was immediately drawn to pony play and began attending Miss Ann's LA Pony and Critter Club play date events, where she had the great fortune of being trained in an introductory manner by Miss Ann. After returning from a several-year hiatus, she finally had an opportunity to get back into pony play by competing in her very first pony play competition, last year's EQUUS IPPE, where she placed first in Trail Race, Quadruple Stake Race, Barrel Race, Western Reining, Cutting, and Blindfolded Obstacle Course, as well as earning 2nd place in Gymkhana Gig, 3rd place in Dressage, and 4th place in Hunter, earning the great honor of being named the EQUUS IPPE 2018 Grand Champion. She competes under the ownership of Mistress Cyan as part of the Sanctuary LAX stables.
Honeydove from Las Vegas, Nevada.
Judge's Pony Spirit Award and Equus International Pony Play Event 2018 High Point Award winner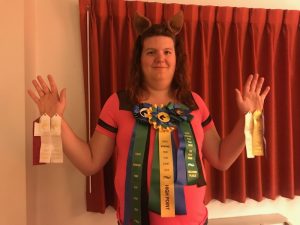 Honeydove has been an admirer of bio-horses from a young age and even received a Dala Hest or "Doll Horse" as a child as was tradition for her family. She was introduced to pony play online by a forum goer of the name Miss Tasha Grey, a fellow lover of pony play. After a setback in 2017, where she was told she wasn't dedicated enough to be a pony, she found friends online and eventually met Miss Fiorghra, her soon-to-be trainer and a wonderful friend while living in Las Vegas, Miss Fiorghra trained Honeydove within five weeks and they even managed to put together a freestyle routine as well during that time using everything that Miss Fiorghra had taught her. Honeydove placed 4th in Trail, Dressage, and Obstacle, she placed 3rd in Hunter, 2nd in Barrel and Freestyle, and placed 1st in Gymkhana. In addition she showed a true happiness in her pony play, winning the Judge's Pony Spirit Award as well as winning the High Point Award.